Welcome to the Botss Wiki
Edit

The Bottom Of The Screen Shooter was one of the earlier video game genres ever and is still quite popular to this day. This wiki celebrates and explores BOTSS games, along with any platforms, programmers and other personnel that create, publish, or hack BOTSS games.
So far, there are 170 articles about bottom of the screen shooters since July 25, 2012, ya got that?! No First Person Shooters, no sports games, no RPGs, no multi-directional shooters, none of that!
Featured article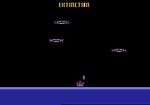 In
Demon Attack
, players controlled a Laser Cannon that faced an unending assault against Demons, materializing out of thin air, appearing in groups of three.
Extinction
is a hack of
Demon Attack
, replacing demons with laser-shooting dinosaurs from space, which "humans are facing extinction from...can you fend them off and secure humanities future?" (More can be read
here
.)
(Previously featured articles can be seen here.)
Latest activity
Edit
Some popular categories
Edit
Below are several categories you may find of interest:
You also might want to check out the how to write an article page in regards to contributing to this wiki! New material is very much appreciated!
And speaking of which...
Submitting a new article
Edit
It can be confusing to new users to wikis in regards to submitting new pages, but it's fairly simple for creating new pages for the most part. Most situations for submitting new material to this wiki in particular will usually include:
Writing about a game. In order to create a write-up about a game, programmer or gaming platform that does not have a page yet, users can perform a Search (at top, slightly right of center) for the subject you wish to create an article on to see if it exists yet, or click on the Add new page icon (at the top, to the right of the total amount of pages currently on this wiki), which you will be taken to a new page and you can start typing to your heart's content.
If there are any questions, either leave them on this discussion page or this wiki's founder's page. There's also the How to write an article page (as mentioned earlier) to read up on formatting for this wiki in particular.
Thanks, and good luck with writing and editing!
And stay at the bottom!